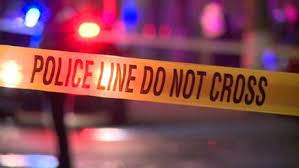 Body Discovered in Las Vegas West Valley Following Storms
By TheNevadaGlobeStaff, September 2, 2023 5:00 pm
LAS VEGAS – Las Vegas Fire and Rescue (LVFR) made a grim discovery in the west valley on Saturday morning, a somber aftermath of the severe storms that had swept through the region on Friday.
LVFR units were dispatched in response to reports of an unconscious individual in the vicinity of Lornezi Street and Westcliff Drive, near Rainbow Boulevard. Upon their arrival at the scene, rescue crews encountered an unresponsive person entangled amidst debris.
Preliminary assessments by officials indicate that the individual may have fallen victim to drowning, aligning with descriptions provided by bystanders who had reported a person being swept away by swiftly moving water in the same area on Friday night.
However, the definitive determination of whether the recovered body corresponds to the person reported missing will be made by law enforcement authorities following a thorough examination of all available facts, as stated by LVFR.
Credits: 8 News Now
Copyright 2022 702 Times, NV Globe. All rights reserved.

Latest posts by TheNevadaGlobeStaff
(see all)