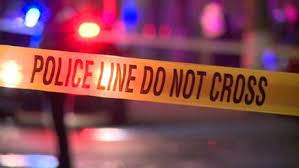 Fatal Shooting Outside Downtown Las Vegas Apartment Complex
By TheNevadaGlobeStaff, September 15, 2023 10:46 am
LAS VEGAS – One individual was tragically killed in a shooting that occurred outside an apartment complex located north of downtown Las Vegas. The Las Vegas Metropolitan Police Department converged on the 1600 block of Searles Avenue near the intersection of Las Vegas Boulevard and Owens Avenue in response to the distress call. At approximately 12:15 a.m., the incident occurred, sending shockwaves through the local community.
According to Lt. Jason Johansson of the Las Vegas Metropolitan Police Department, witnesses reported seeing the victim seated on a bench in a nearby parking lot just hours before the shooting. The victim's identity and further details surrounding the incident are currently under investigation.
Eyewitnesses on the scene recounted that they observed an individual dressed in dark clothing fleeing from the area shortly after the incident occurred. This mysterious figure remains a person of interest as law enforcement works diligently to uncover the circumstances leading up to the tragic event.
In an unrelated turn of events, a few blocks away at the intersection of Bonanza Road and Bruce Street, a police vehicle was involved in a collision with another car. Authorities reported that the car in question had been driving recklessly and appeared to be attempting to leave the scene of the shooting. At present, it remains uncertain whether this incident is connected to the fatal shooting, but investigators are exploring all possible leads.
Credits: 8 News Now
Copyright 2022 702 Times, NV Globe. All rights reserved.

Latest posts by TheNevadaGlobeStaff
(see all)