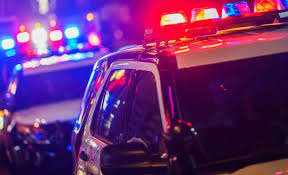 One Killed and Multiple Vehicles Damaged in Las Vegas Crash
By TheNevadaGlobeStaff, May 15, 2023 5:17 pm
LAS VEGAS – Las Vegas police are investigating a fatal crash that occurred on May 12, resulting in one death and damage to multiple vehicles. The incident took place at approximately 7:06 p.m. on S. Decatur Blvd., north of W. Pioneer Ave.
A media release from LVMPD revealed that evidence at the scene and statements from witnesses suggested a 2012 Volkswagen traveling north on Decatur veered to the right while attempting a lane change and lost control. The car left the road and continued north on the eastern sidewalk, where it then struck several utility poles and hit a pedestrian.
The vehicle then came to rest back on the road. Debris from the crash damaged seven unoccupied vehicles in a nearby car dealership parking lot. The pedestrian, a 55-year-old male, was transported to UMC Trauma for mortal injuries, where he was pronounced dead.
The driver, Jovany Pouncil, 27, and the passenger of the Volkswagen were also transported to UMC Trauma with minor injuries. Pouncil was suspected to be impaired and was booked in absentia into the Clark County Detention Center on DUI-related charges. A court hearing is scheduled for May 16.
This marks the 47th traffic-related fatality in the Las Vegas Metropolitan Police Department's jurisdiction for 2023. The collision remains under investigation by the LVMPD Collision Investigation Section.
Copyright 2022 702 Times, NV Globe. All rights reserved.

Latest posts by TheNevadaGlobeStaff
(see all)