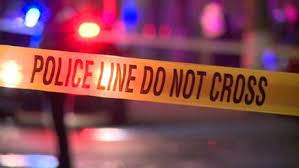 Man Suffers Critical Injuries After Being Thrown from Motorized Bicycle
By TheNevadaGlobeStaff, May 17, 2023 9:43 am
LAS VEGAS – A man was hospitalized with life-threatening injuries after he was thrown from his aftermarket motorized bicycle while riding on Russell Road, east of Hollywood Boulevard. The incident occurred around 10:42 p.m. on Tuesday, according to Las Vegas Metro police.
The victim, identified as 35-year-old Robert Barratta, was traveling in the left-most travel lane when he veered into the center turn lane. The bicycle overturned and ejected him, causing him to suffer critical injuries. It is unclear at this time whether or not the bicycle was struck by a vehicle.
The crash is currently under investigation and police are urging anyone with information to come forward. Anyone who witnessed the accident or has information about it is asked to contact Metro's Collision Investigation Section at (702) 828-4088. Those who wish to remain anonymous can call Crime Stoppers at (702) 385-5555.
Credits: 8 News Now
Copyright 2022 702 Times, NV Globe. All rights reserved.

Latest posts by TheNevadaGlobeStaff
(see all)