Franklin Project Mailer Names and Shames Washoe Commissioner Bob Lucey
New IE group smacks incumbent to the benefit of challenger Mike Clark
By Ken Kurson, April 18, 2022 9:57 am
If you like your politics nasty and personal, there's a new Independent Expenditure outfit in town for you.
Press play to hear a narrated version of this story, presented by AudioHopper.
The Franklin Project seems to take inspiration for its naming and its in-your-faceness from The Lincoln Project. But unlike Lincoln, which is comprised of Republican never-Trumpers (and raised a ton of money, created some clever ads, and endured some eye-popping scandals), the Franklin Project seems to be backing candidates more aligned with Trump-style populism. Candidates seeking its support are asked if they support "a full forensic audit in all 50 States for the 11/3/2020 election" and "the abolishment of all vax-mask mandates and lockdowns." So far, supported candidates include Joey Gilbert for governor and Sigal Chattah for Attorney General.
Another of the group's endorsees is Mike Clark, who is running for the GOP nomination as Washoe County Commissioner. Clark, the current Assessor of Washoe County, is facing two-term incumbent Commissioner Bob Lucey, who is running for re-election. It is shaping up to be a bruising primary.
Two weeks ago, Clark said he'd received a threatening call from Lucey. He promised to report the Commissioner to the sheriff and the District Attorney. Lucey fired back that the call was the kind of "it's not a threat it's a promise" where he simply called as a "professional courtesy" to inform Clark that he'd be pursuing a minor technicality on Clark's voter registration—a matter so small that the Secretary of State sent a memo saying a "candidate whose major political party affiliation was changed by the AVR process through no fault of their own" should not be denied the opportunity to run to represent that party.
So Clark would appear to have won that round, at least until tomorrow's hearing on the matter.
(The Nevada Globe emailed both candidates at 1 pm Friday; we heard back from Clark right away and his comments are included in this story. After 72 hours we have not heard back from Lucey and received only an auto-reply from his office.)
Enter the Franklin Project
And now, the Franklin Project has entered the fray. And what an entrance.
This week, Republican primary voters in Washoe County received a postcard called "Bob Has Been a Bad Boy." It attacks Bob Lucey for a laundry list of crimes and misdemeanors: "Being a racist. Taking money for favors. Getting his wife a county job. Rigging an election. Shutting down election integrity." And several other accusations. As if those weren't serious enough charges, the mailer also accuses Lucey of "Sleeping with [Name Redacted]"—it names the alleged mistress in black and white and helpfully notes that "Bob's married."
The Globe is redacting the name of Lucey's alleged paramour because she is not a public figure, and seriously, what's the point.
In an interview with The Globe, Clark made clear that he hadn't put out the mailer, which was the brainchild of The Franklin Project. At the same time, he disputed the notion that the identity of the alleged mistress is irrelevant.
"She is a county employee under the supervision of the County Manager and the county manager is under the supervision of the County Commissioners," Clark told The Globe.
Multiple serious allegations
Clark continued, "These are extremely serious allegations and I'm glad you're looking into them. These allegations are coming from a sitting County Commissioner and a former County Commissioner independently making these claims."
Clark is referring to videos that Franklin Project has put on its website of Washoe District 5 County Commissioner Jeanne Herman and former Washoe County Commissioner Marsha Berkbigler.
In the video, Herman names the woman who she says she heard in Lucey's office. She says, "It sounded like one of those porn movies." Former Commissioner Berkbigler accuses Lucey of threatening her. "Bob Lucey said he was 'going to get me' for not supporting his love affair with [Name Redacted]."
So these are serious people making serious accusations in their own name on video. That's harder to dismiss than a random IE group suddenly throwing shade.
Clark told The Globe, "I have no personal knowledge of these misdeeds. However, I've seen the tapes and everyone should view them and ask the serious questions of those making the allegations."
As for Lucey's efforts to disqualify Clark from the ballot, Clark is incensed.
Lucey Tries to Bounce Clark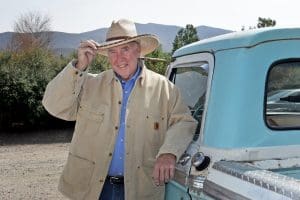 "I'm probably one of the few people in America who has their own initial registration form from June of 1971. I'm proud of keeping that my whole life. I never once left the party. I've only lived in four counties my whole life. I've never changed my party affiliation. This is something that the DMV did. My opponent in the county received a notification memo from the Secretary of State on February 15 saying that if this happened to anybody they should let them run for the party they were in initially, not the one the state opted them in. And then the DMV chimed in and said because of others not just me they are no longer going to reregister people. So you've got two entities of the state of Nevada saying Clark or any other person should be able to run to represent the party they thought they were in. The DMV is saying it's caused lots of other problems. Yet my opponent doesn't think that this county has to comply with the directive from the Secretary of State."
"It's even more egregious," continued Clark. "My opponent called me the last day you're allowed to voluntarily exit a race and threatened me. I filed a report with the sheriff and the HR department. He threatened me that if I didn't drop out of the race he was going to sic the DA on me and accuse me of lying, perjuring myself, and  falsifying my filing, and on and on and on."
The Globe told Clark that we had read of Clark's intention to file complaints against Lucey, but at the time of Mark Robison's Reno Journal story, it was an intention. Clark confirmed to the Globe that he has since filed those complaints. He says he doesn't expect much official discipline to result, citing Lucey's disingenuous cover story that the call was not a threat but a courtesy.
"This guy is been so discourteous to me the last six or seven years—again you can hear other county commissioners backing up these claims—so why would he all of a sudden call me as a courtesy. It's ludicrous. Had I actually done something wrong, other county official from the registrar of voters would have let me know, not my opponent."
The primary is June 14 and there's a hearing Tuesday at 1:30 at the Washoe Courts about Clark's right to remain on the ballot. However it shakes out, it's clear that there's nothing sleepy in Reno and the great North beyond.
Latest posts by Ken Kurson
(see all)